On a recent Saturday, Bill and I decided to jump in the car and head up to Lake Geneva, Wisconsin for the day.  The beautiful resort area is a mere 90 minutes from our house, making it a delightful destination on a spectacular summer day.
Those of you who live in Chicago know Lake Geneva well. For others, I'll provide a a bit of background information. Geneva Lake (the actual lake's name) is located just over the border of Illinois in the southeastern part of Wisconsin. There are approximately 22 miles of shoreline and a surface area of 5,263 acres. It is the second deepest spring fed lake in Wisconsin. Three towns reside on Geneva Lake; Lake Geneva, Williams Bay and Fontana. Each town offers a little different feel. The area first became known as a getaway for the rich and famous, as evidenced by the many mansions gracing its shores. The abundance of actitivites continue to make it a popular destination for permanent residents, summer residents and visitors alike. Swimming, boating, sailing, fishing, golfing and shopping are among the most popular activities. But don't stop there, as ziplining, water parks, hot air balloons, and horseback riding are also offered. Culture lovers appreciate the theater and music.  Festivals and farmers markets add to the fun. Restaurants and drinking establishments abound, offering something for everyone's tastebuds and wallets. I think I could write for the local convention bureau! Lol!
Needless to say, there is something for everyone in the Lake Geneva resort area. Today, I will share a few of my favorite choices.
WALKING THE SHORE PATH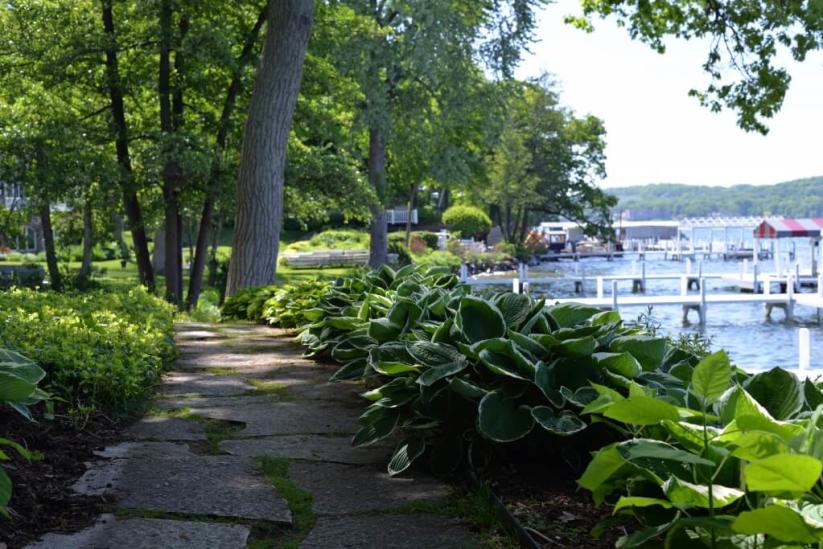 Walking the shore path around the lake provides an intimate look at both the water and beautiful residences that line its frontage. I'm not sure if it is a law or a local ordinance that specifies all property owners must provide a path along the lakeshore. This means that anyone can walk the entire way around. I have not walked the 22 miles at one time, but have hiked different sections of it on many occasions. The walk is exhilarating and allows me to be a just a few feet from the water while gazing at magnificent homes along the way.
We started our hike at the darling Lake Geneva library. Large windows face the lake. What a view while reading!
 Boats glistened in one of the harbors as we began our walk.
It was hard to know which way to look, the sparkling lake or the spectacular homes.
 All docks are wood and painted brightly white. The crisp color of the docks against the blue water provides a gorgeous picture.
BOATING
 We did not go boating on this trip, but have enjoyed countless hours doing so on other occasions. Bill still needed to check out a few new boats for sale at Gage Marine.
 Lake Geneva offers lots of opportunities to sail also.
 If racing around on a speedboat, or sailing is not your thing, try a tour. A large variety of tours are offered. One of the most fun tours is the mailboat tour. All residents who live on the shores of Geneva Lake receive their mail by boat. Teens, hired each summer after tryouts, jump off the boats at each dock to deliver mail ….quite a sight to see!
GOLFING
 Golf is a passion for both of us! Geneva National offers 54 holes of golf. The three courses were designed by Jack Nicklaus, Gary Player, and Lee Trevino.  Having played here, I can say they all offer a unique challenge, reflecting the players who designed them.
 The Abbey Springs golf course offers stunning vistas of Geneva Lake. Be prepared to walk up and down a lot of hills here.
The Grand Geneva Resort has two spectacular golf courses also, The Brute and The Highlands. I have only played The Highlands because who wants to play a course called The Brute? From what I have heard, it stands up to its name.
SWIMMING/SUNBATHING
Riviera Beach in Lake Geneva was not too crowded on the day we were there.
 The Fontana Beach is my favorite!  This photo was taken before the beach opened for the day.
Williams Bay also has a lovely public beach.  Homeowners and Homeowner Associations have their own private beaches.
DINING (LUNCH)
After we completed our 13,000 steps, (That's what my phone said! Lol!) we decided a little nourishment was in order. Wanting something light, we decided to check out this darling restaurant, Great Eggs, we had walked by in Lake Geneva earlier. Specializing in custom wrap sandwiches, It was hard to decide. I finally decided on a chicken ceasar wrap in a garlic tortilla. And to accompany it, a Spotted Cow beer. When in Wisconsin…..  And no, I didn't splurge on any cheese curds.
Gordy's Boathouse Restaurant in Fontana is always a favorite spot to dine, and great if you are looking for some nightime fun!
Dining spots are way too numerous to cover in just one post, so I'll leave that for another time.
SHOPPING
 Energized after a bite to eat, we set out for some shopping. Ok, I set out for some shopping. Bill loathes it! He was a good sport though and joined in. The town of Lake Geneva is home to countless, eclectic stores and art galleries.
 Tilly, the dog, was sleeping amidst wetsuits and snowsuits in one store.
COCKTAILS
We chose to finish off our day with toes in the sand and a cocktail at Pier 290 in Williams Bay, my very favorite restaurant/bar in the area! The food is upscale and excellent, the scene is fun, and need I say more?! Weekends have live music, as is common in many dining and bar options in the area.
 Pier 290 is a blast during the day for people and boat watching, but it also hops at night! Also above I've included a picture of the restaurant entrance filled with antique photos of the area and hanging boat props. And oh yeah – that's a pic of my toes in the sand.
Have I wet your appetite for a visit to the Lake Geneva area? With so many spectacular offerings, how can you resist? A day is not nearly enough to experience everything, but it's a good start!
XO,
Linda