Many of you are saying "What do you mean, a fifth wall?". Others are thinking "Of course I know what a fifth wall is!". The fifth wall is a term used to define the ceiling. Often ignored in the past with nothing but simple white ceiling paint, the fifth wall is moving to the forefront in significance. The photo above indicates how the architectural beams framing the vaulted ceiling make this room.
Treating your ceilings as importantly as the walls of a room adds interest and certain panache to a room.  Today, I am sharing some suggestions for punching up the design quotient of the fifth walls in your home.
WOOD
 A coffered ceiling painted in the same white as the ceiling lends visual interest while still feeling airy.
A reclaimed wood ceiling in this bedroom adds warmth and vintage charm.
Wood beams in this kitchen exude rustic elegance.
Who can deny the charming appeal of a white shiplap ceiling?
TIN
A tin ceiling completes the opulent look of this room.
 A corrugated tin ceiling defines this outdoor room.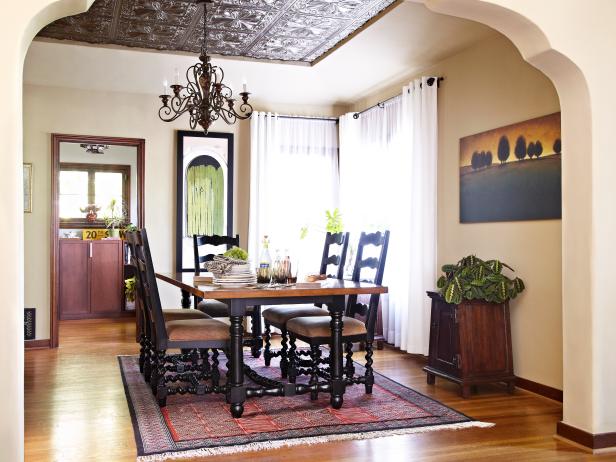 The bronze ceiling of this dining room adds a richness that blends well with the other wood tones of the room.
Try a tin ceiling painted white for a more formal setting.
PAINT
The deep contrasting grey in this ceiling compliments the textured wall paper and elegant, tiled floor. It's so much more pulled together than a plain white ceiling.
Glamour  abounds in a library room due to this gorgeous ceiling with metallic paint.
Bold colors enliven this hallway. I especially love the teal ceiling color paired with black trim.
The pale blue paint on the ceiling of this sunroom mimics a beautiful sky.
Why not a painted striped ceiling? The cheerful yellow stripes on this angled ceiling resemble a summery awning.
It's hard to debate the drama of a black ceiling. Pair it with white walls and colorful artwork for a contemporary look.
WALLPAPER
The spectacular wallpaper on the ceiling takes this room to another level.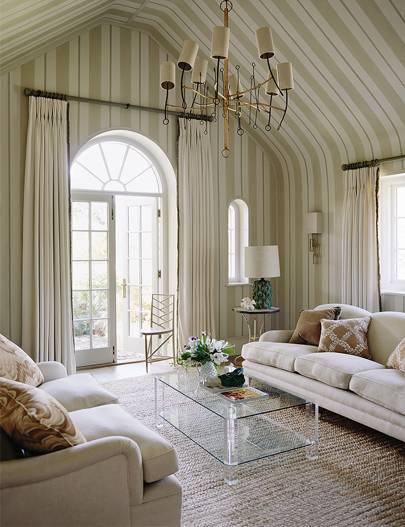 Continue wallpaper from the walls up to the ceilings for a dramatic look.
A simple but sophisticated patterned wallpaper compliments the deep wall color.
Faux wood wallpaper on the ceiling warms this nursery.
 A geometric pattern on a bedroom ceiling provides interest, not to mention something fun to look at while in bed.
Dots on the ceiling lend a glamorous look to this small bedroom.
 Custom floral wallpaper appears as a mural over the bed providing a sophistical flair to this bedroom.
Endless options exist for ceilings. Choose something unique to lend a custom look to your decor! I hope I have inspired you to consider the fifth wall in your home!
XO,
Linda