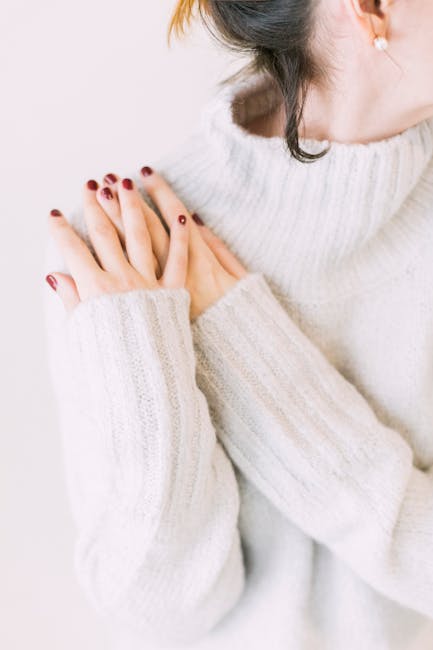 Is there anything better than a cashmere sweater on a cold day? Cashmere provides a warm, soft layer to chase away the chills.  I, for one, covet the feeling of being cuddled in its warmth.  I own many cashmere sweaters in an array of colors and styles.  It is the perfect knit for late fall and winter in Chicago.
Cashmere is universally popular and available in a variety of colors, styles and price points.  It also makes a fabulous gift. Today, I am sharing some of my favorite, reasonably priced cashmere sweaters for this year.
THE BASIC
This beautiful heather grey cashmere v-neck from Everlane is a must.  Offered at only $100 (it retails for $215),  is also available in 8 other colors.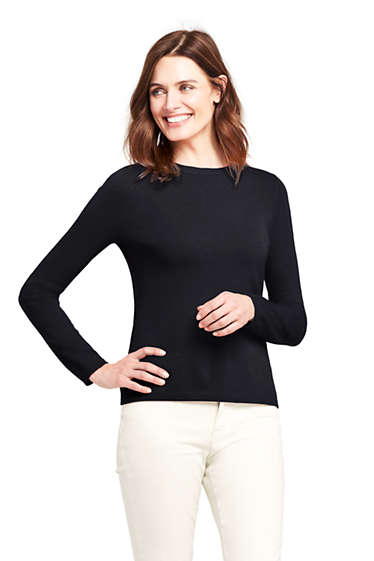 A black crewneck cashmere sweater should be part of everyone's winter wardrobe.  Wear it with jeans, any color pant, a skirt, or under a blazer. Slide it over your favorite blouse or turtleneck on a chillier day. Add a scarf or jewelry to finish the look. This sweater is available to purchase at 50% off  through 10/31/18.  It is offered in 11 colors.
Keep this cashmere cardigan handy to throw on when needed.  I like the idea of a longer open front cardigan vs. a short button front. I am showing it above in navy, which is growing in popularity.  It is also offered in dark grey heather and black.  I love it with skinny jeans, as shown here, or leggings.
This mockneck cable cashmere sweater in ivory speaks luxury. It would look equally beautiful dressed up or down. Porcelain blue heather and greystone heather are also options in this lovely sweater. This sweater is currently 30% off through 10/28/18.
THE COLORFUL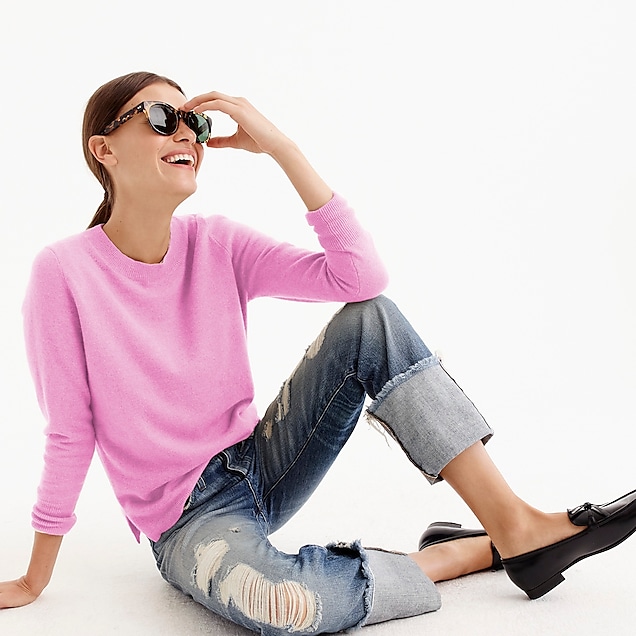 J Crew has 22 colors of cashmere crewnecks. The colorful sweater shown here in neon peony is perfect for brightening up a cold, grey day. Offered at $98, why not buy several colors?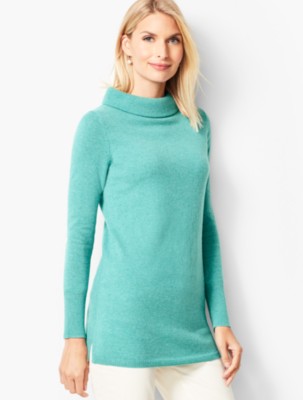 I love the idea of this beautiful cashmere sweater paired with winter white.  The portrait collar is flattering and the length is great with leggings also. You will find it 30% off through 10/28/18. It is available in 6 colors.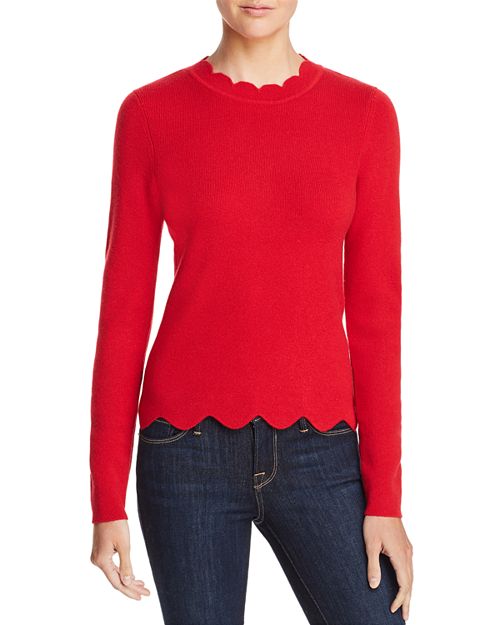 Who doesn't want a red sweater for the holidays? This darling cashmere sweater with the fun scallops adds a festive touch to any holiday outfit. It is currently on sale through 10/29/18.
THE NOVELTY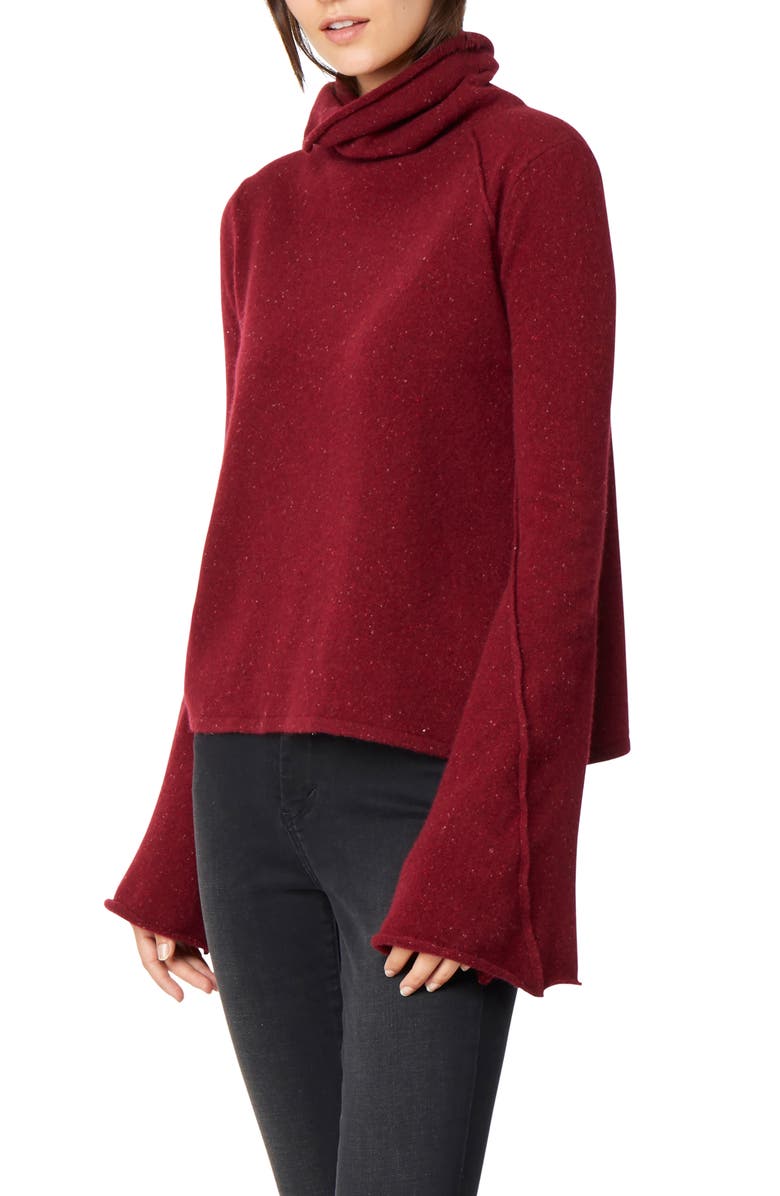 Let this great bell sleeved cashmere sweater be the centerpiece of your outfit.  Pair with some fabulous jeans for a fun night out while staying cozy and warm.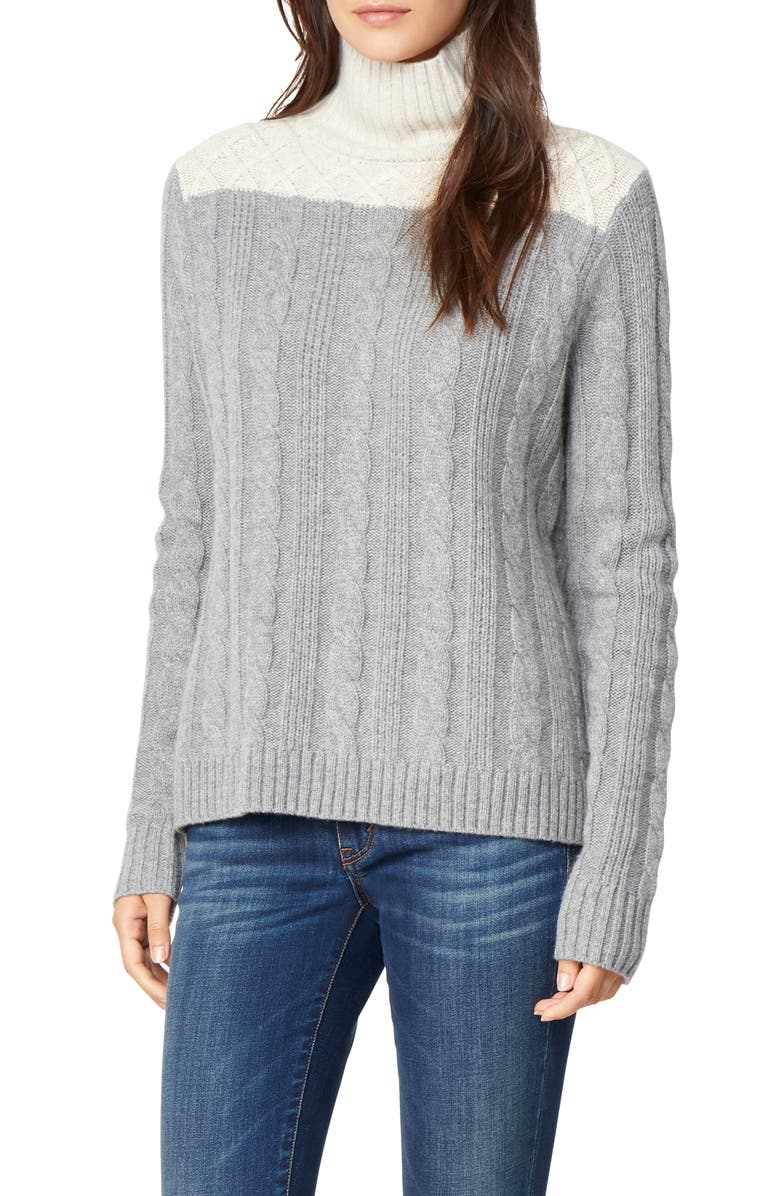 Color blocking offers a unique cashmere look. This turtleneck is perfect for a relaxing weekend brunch or apres ski.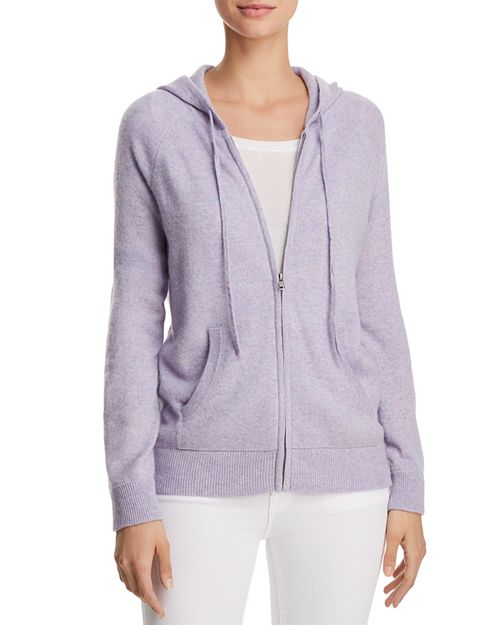 A cashmere hoodie is so luxurious. This soft heather iris color elevates its look.  It's perfect on a plane for escapes to warmer climates. This luscious sweater is currently on sale until 10/29/18, and is offered in 4 colors.
With cold weather closing in, its time to cozy up to some cashmere sweaters.  Those shown above are just a small sampling of the gorgeous, colorful, soft and warm choices of this knit available.  I hope you are inspired to add some cashmere to your wardrobe!
XO
Linda