Remember the days of thick luscious eyebrows that needed to be tamed regularly with tweezing, waxing, etc.?!   Well, no more for me.  My eyebrows seemed to have thinned to the point of no existence.  Our eyebrows help define our face and when well shaped, act as an eye-lift. Emotions are conveyed by our eyebrows' subtle movement. I want mine to be visible. I am always on a quest for the best way to restore mine to mimic the brows of my youth.
Why do eyebrows thin as we age? I certainly am not a medical expert by any means, but I did do a bit of research. My research has concluded that there could be many contributing factors. A visit to your doctor could be in order to rule out a thyroid deficiency, vitamin and nutritional deficiencies, or a form of dermatitis.  It is also likely it could be the result of hormonal changes we experience as women, such as menopause.  Additionally, I  know that I tended to overpluck and overgroom in my younger days. Pair any of these scenarios with the aging of hair follicles and we end up with thinning eyebrows!
Fortunately, we have tools at our disposal to replicate those beautiful full brows of younger years.  So, what are our best options?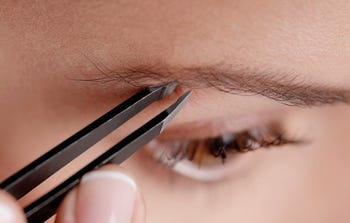 To begin with, if you are still plucking, threading, waxing, etc., try to do it with less frequency, avoid overdoing it, and avoid going over the top of the brow.  Only groom between the eyelid and lower section of the eyebrow. Give the eyebrows time between each grooming to fill in a bit.
Give microblading a try.  This is a semipermanent way to define brows that looks more natural than regular tattooing. A pigment is added under the skin with a small handheld tool.  The technician adds the color by drawing small hairlike strokes to mimic eyebrow hair. There is some aftercare required and brows will need touchups about every 6 months to one year. Please be sure to visit a professional technician for this procedure as it is a form of tattooing. The results I have seen are excellent. However, it is a rather costly undertaking and requires diligence after the procedure in protecting the newly tattooed area.
My very favorite product for brows right now has to be this Estee Lauder Brow Multi-Task pencil. It offers a three-pronged approach to give you full, natural looking brows.  Choose a shade slightly darker (one to two shades)  than your hair color for more definition.  Below is a description of how to utilize this great product.
Another brand that has developed a fabulous reputation for brows is Anastasia Beverly Hills.  I have used their products as well and highly recommend them. I love this pencil.
I have not used this brow pomade, but know others who have. It also gets rave reviews.
Our eyebrows help define our face and reveal our emotions with movement. I like when mine are visible to express how I'm feeling! I hope these ideas allow you to better define your eyebrows and convey the inner you.