Having spent a good portion of my life in Michigan, I am always drawn to its natural beauty and plentiful lakes.  Fortunately, Southwestern Michigan is less than a two hour drive from the city of Chicago.  My husband and I chose to make that drive this past weekend to celebrate our 30th Anniversary. Yikes! Where does the time go?! Miraculously we encountered little traffic which made the drive rather pleasant.  We had picture perfect weather all weekend.  The fall colors have not arrived yet, but we experienced the glory of crisp air and bright blue skies.
The beaches in southwestern Michigan are beautiful!  The weather was a bit cool for swimming, but walking along a beach is one of life's best activities.
Southwestern Michigan has numerous wineries well worth a visit!  Our first stop was Tabor Hill Winery.  Tabor Hill, Round Barn, and Free Run wineries (all local to the area)  share the same owner. We chose to have brunch at Tabor Hill.  The food and wine are excellent,  and we were able to sit outside and enjoy our meal.  They offer a farm to table menu providing lots of delicious options.  I chose a Chardonel wine (yes you read that correctly – not Chardonnay)  Chardonel is a hybrid grape originating from  Chardonnay and Seyval grapes. I thoroughly enjoyed it.  Tabor Hill describes it as a Chardonnay hybrid grape variety with a floral bouquet and bright citrus flavors that give way to melon, lime and refreshing lemon on the finish. I paired that with a delicious egg benedict dish which featured arugula, fabulous hand cut bacon and a marvelous hollandaise sauce.  Bill chose a dish featuring duck eggs. They taste the same (of course I had to try them) but appear to be much larger than chicken's eggs.
After lunch we toured the winery.  We began in the vineyard and viewed everything used in the process for crushing, storing, aging, bottling, corking, and labeling.  Throughout this tour we tasted 6 different bottles of wine! (remember I said tasted – not finished! Lol!) We ended the tour sampling a prepared hot mulled wine perfect for the upcoming holidays.  Click on  Tabor Hill  for more information on their wines, menus, etc. 
Some of the vineyards also have orchards in addition to wine.  Above are some freshly picked apples.  We discovered these while exploring the award winning wines offered by Lemon Creek Winery.
More than two dozen wineries call this part of Michigan home, clearly too many for one afternoon.  We have a great reason to return another time! Anyway, time to head up the road to our destination for the evening, St. Joseph.
This part of Michigan is also fondly referred to as "Harbor Country". Various harbors located along the coast of Lake Michigan shelter beautiful yachts. Bill is yearning for the one shown in the background here at the Harbor Shores Resort Marina in St. Joseph. But alas it is registered in the BVI. I'm sure it will set out for warmer waters soon.
We checked into our hotel for the night, The Inn at Harbor Shores. My interior design experience allows me to appreciate the beauty of interior spaces.  I don't like themes, but appreciate when a space reflects the feel of the area.  Here shades of blue and original artwork are showcased throughout the hotel as a nod to its location.
We enjoyed dinner in the casually comfortable restaurant, Plank's Tavern.  I savored my well prepared Mahi Mahi.  We shared a fabulous lemon flavored cheesecake for desert.  Thoroughly full and sated from our afternoon of wine tasting, we retired for the night.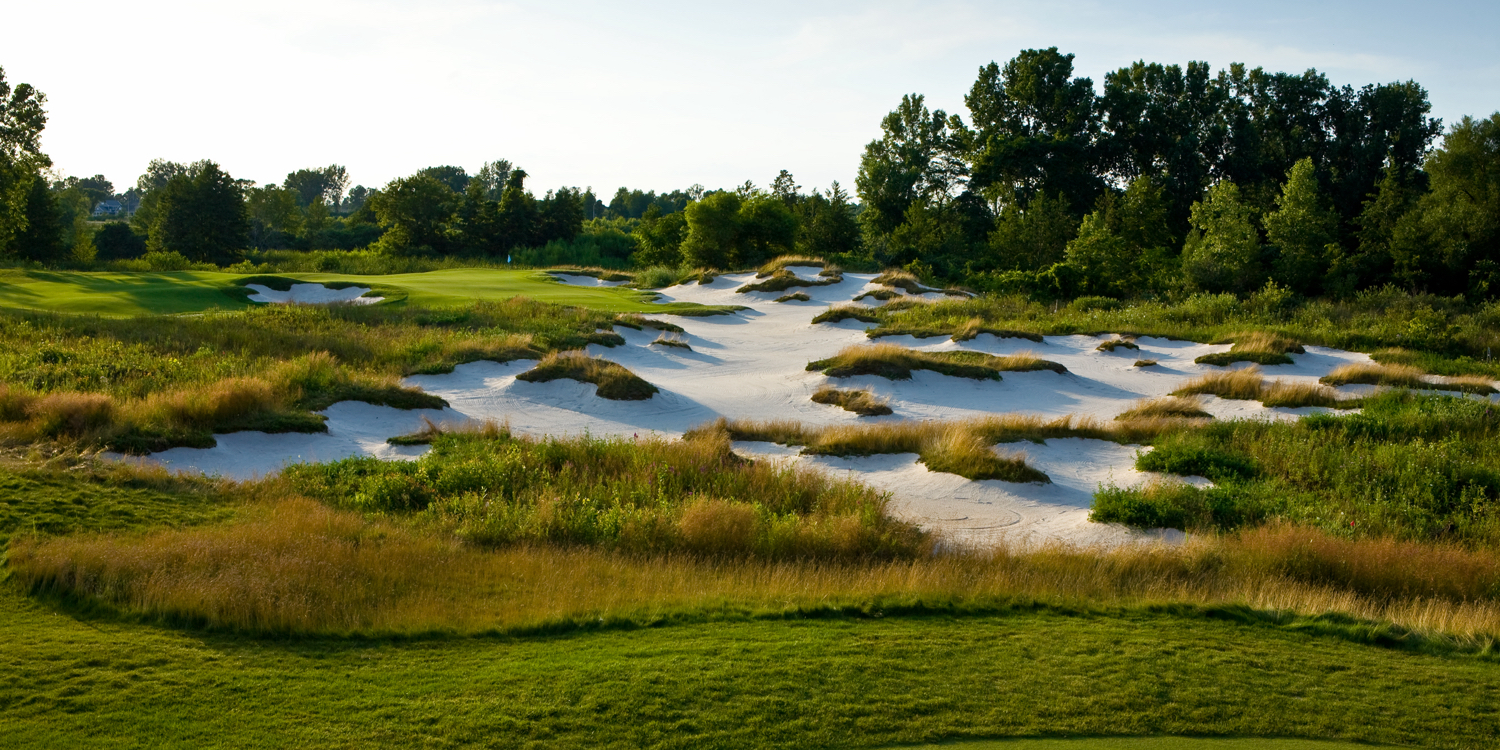 We rose early to tackle the Jack Nicklaus designed Harbor Shores golf course.  This course has served as host to the Senior PGA Championship and will continue for 2020, 2022, and 2024. What a spectacular golf course! Yes, there are a lot of sand traps! Part of the course is built into the dunes along lake Michigan.  The varied terrain of the course makes it unique.  Holes 1-6 are inland, 7,8,9 are dunes courses with views of Lake Michigan, 10-13 are in woodlands, and 14-18 are in river terrain. We played with two delightful gentlemen,Bill and Greg, both local to the area.  There were a lot of laughs and cheers as we made our way around the course.  I can't say it was my best round ever, but surely a memorable one.
Our mini tour of Southwestern Michigan came to an end with the conclusion of our round. I know there are much more exotic places to visit, but I hope you give Southwestern Michigan a try.  Hopefully you will learn to love it as I have!