What a magnificent animal! I have always loved the beauty of these big cats.  Maybe that explains my obsession with all items even hinting at leopard.  This applies to clothing as well as home decor.  The good news is that leopard and all animal prints are huge this fall.  Yay for me!
An important thing to note about leopard is that a little bit goes a long way.  Restraint is the key word here.  I pulled a leopard print scarf out of my closet last week to ease into fall.  I'm wearing it casually with a black tank dress and denim jacket.
There are so many fabulous ways to add a little bit of leopard to your fall wardrobe.  Start with a scarf. This one is available at Nordstrom by Sole Society here for only $29.95.
If you feel a little more daring, try some leopard shoes.  I'm showing mine off here, purchased from J. Crew a couple years ago.  Animal prints truly are timeless.
I love these shoes that are offered at Nordstrom by Steve Madden for $89.95.
A bold move would be wearing a great leopard shirt.  I recently purchased this one from Chicos during a sale.  The shirt currently sells for $89.50.  I love it as it can be worn so many ways.  Try it alone untucked with a pair of  jeans and black mules for a casual look.  Dress it up tucked in with black straight leg pants or a black pencil skirt and a pair of heels. If the leopard blouse seems too much on its own, then wear it under a long black open front cardigan or a denim jacket.
We can't forget about accessories when talking about leopard.  A handbag is a perfect way to add a touch of leopard without overdoing it!  I particularly like this bag offered at Talbots for $149.  It has such a classic look.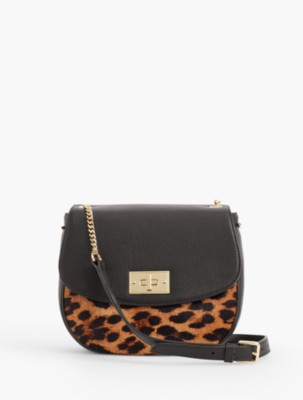 For those of you who are truly daring, go for the coat. These are definitely very in for fall and winter. (faux fur of course!!) Check out this one at Nordstrom by BB Dakota for only $120. I just love the shape and style of this coat.
Lastly, I can't resist a good leopard pillow to add to any sofa.  Leopard is a neutral, so don't be intimidated adding it to your decor.  Both the leopard and tiger pillows are available at Williams Sonoma Home.
I could continue to go wild for leopard! (Ha Ha!)  But seriously, I hope I have inspired you to unleash your inner animal and add a little leopard to your life!