Every winter my husband and I travel to beautiful Los Cabos.  Located on the Yucatan peninsula in Mexico, Los Cabos includes both the towns of Cabo San Lucas and San Jose Del Cabo and their surrounding areas. The Sea of Cortez is on the Eastern side of the peninsula and the Pacific Ocean is on the western side. My parents first introduced us to the area 12 years ago.  We have created many special memories here as a family. We are forever grateful to my Mom and Dad for this gift. Trips have evolved over the years embracing many different stages in our lives. Some trips included our daughter and her girlfriends, others included extended family members or personal friends, our daughter and her husband, or just my husband and me.  It doesn't matter when we go, who goes, or what we do.  It is always amazing!
Bill and I just returned from this little slice of "heaven on earth". Today, I am sharing some of my favorite things about Cabo!
 Our timeshare is at the magnificent Pueblo Bonito Sunset Beach.  This spectacular resort is carved into the mountains and situated on the Pacific Ocean.  The resort offers anything and everything you could want for your stay.  All rooms are suites of varying size with balconies facing the ocean….some even have hot tubs. There are multiple restaurants with an array of varied cuisine, 6 pools sprinkled throughout the property, tennis courts, a mini grocery store, chapel, an excellent spa, and a spectacular Jack Nicklaus golf course.  We are also free to use the facilities at their sister resorts Pueblo Bonito Rose and Pueblo Bonito Cabo. (they provide transportation to these resorts daily for guests)
 We choose to start the day off with breakfast on our balcony most mornings.  We enjoy having a kitchen for many reasons, but especially for breakfast.
Sunbathing is always in order to chase off the chills of frigid Chicago!    The temperatures in Chicago were setting record lows. Some readings were – 25 degrees! (yes, below zero!) Pictured above are three (of the 6) different pools at the resort.
Walking the grounds of the resort is not only beautiful, but challenging with all the hills. Transportation by golf cart is provided throughout the resort.
A walk on the beach is equally spectacular and exhilarating!
What would a vacation be without a trip to the spa?! A soothing massage provides just the muscle tension relief I seek.  I follow it up with a jacuzzi but avoid the ice bath.  I can get cold at home!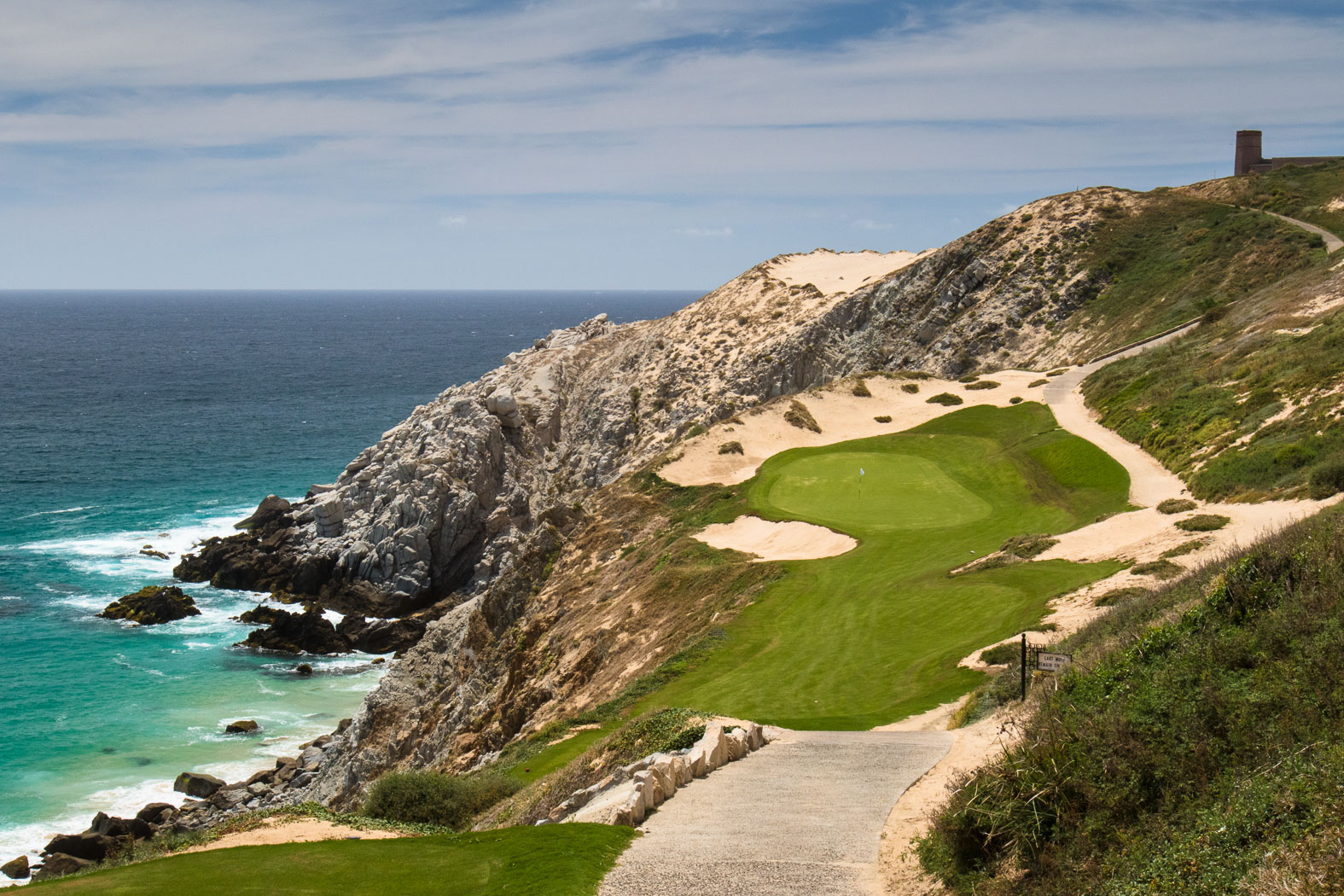 A round of golf at the awe-inspiring Quivera golf course is a must on everyone's list. Every hole offers breathtaking beauty! A word of warning though – bring plenty of balls! There is no retrieving them from the ocean cliffs or desert landscape. (and I loose plenty!)
One of my favorite parts of this golf course is what they call the "comfort stations". They have 3 throughout the course.  The second one provides a seated full meal while overlooking the course and ocean.
Why not take advantage of a visit to their sister resorts, Pueblo Bonito Rose and Pueblo Bonito Cabo?  Located next to each other on the Sea of Cortez, they offer a lively beach scene and a great spot for a bit of lunch!
Speaking of dining, so many places to eat exist that it is SO difficult to decide. Some nights we choose to eat at the resort and on other evenings we leave the resort for town.  It's fun to mix it up a bit depending on our whim at the moment.
 Tazuna at our resort offers succulent sushi and other seafood choices.
 We also enjoy The Bistro at the resort for a great view and variety of menu options.
The Market, an enormous upscale food hall on site offers everything from chocolates, lattes and espressos, Italian food, Mexican food, a wine bar, gelato, deli, just to name a few. I particulary enjoy the various flavors of gelato!
 The hot dogs and hamburgers are delicious at the 50's Diner on site.  Splurge on a milkshake too. I like to indulge in the expansive breakfast options here as well.
Sometimes it is fun to get off the resort. And once again, the dining choices are diverse and endless. We are enjoying a festive dinner at The Office.  Tables are on the beach with nightly live entertainment.
Edith's is a magical place to dine. Eat under thatched rooves with excellent cuisine.  A more upscale dining spot, make reservations ahead of time as it books up well in advance.
Listed below are some of our other favorite Cabo restaurants. We rotate through them when we are in town. Most are fine dining, so we pick one or two per trip.
 El Farralon
 Sunset Da Mona Lisa
 Flora's Field Kitchen – Flora Farms
Alexander's on the Marina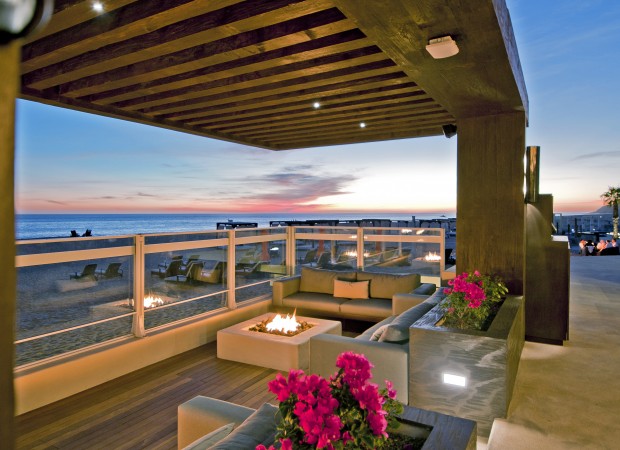 The Peninsula at Pueblo Bonito Pacifica
 The Steakhouse at Quivera
The fabulous dining options are endless! I could go on and on.  We always look forward to trying a new spot also. I've heard great things about Manta, the restaurant at The Cape Hotel. We have enjoyed sunset views from their rooftop bar!
Before you dine in all these scrumptous places you need to work up an appetite. Again, plenty of choices. I am sharing things we have always enjoyed. Golf is always at the top of our list, but here are some other options.
Barter with beach vendors! I am fascinated by their determination to strike a deal for everything from a hat, to silver jewelry, or a bowl!
Enjoy shopping at Puerto Paraiso Mall! This stunning setting is located adjacent to the marina. Shop a fabulous array of stores.
Stroll through the Marina and maybe book a special excursion!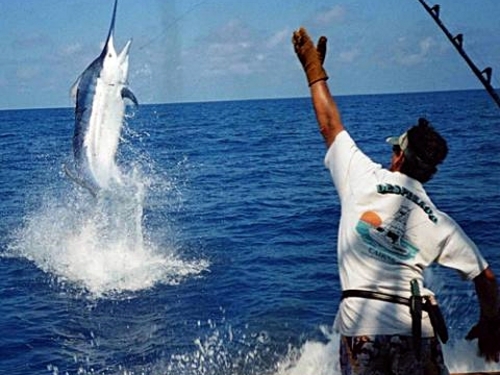 Go Deep Sea fishing! We did not catch a marlin. In fact, we didn't even get a bite on our lines when we went. But we had a fabulous time. It was so relaxing and peaceful to be out on the water. We did see lots of whales! Awesome! The shoreline is paticularly beautiful while on a boat.
Visit the Art Gallery District in San Jose Del Cabo! Thursday nights offer an Art Walk.
 Take a sunset cruise! Decide what type of cruise suits your crowd. Welcome the sunset on a party boat or charter a private yacht.
 Take a side trip to charming Todos Santos and visit the Hotel California! (of supposed Eagles lyrics fame – but who knows?) Enjoy a delicious meal and check out the art while in town.
Experience the nightlife! While this isn't really our thing, our daughter, her husband and friends enjoy the fun clubs and bars Cabo offers.
 We prefer a quiet nightcap in the gorgeous hotel lobby bar looking out at the Pacific Ocean!
We had a full and yet relaxing week in Cabo! We capped it off with a Super Bowl Party thrown by our resort. Picured above are two waiters at The After (their sports bar – tvs line the walls everywhere) enjoying the festivities.
Goodnight and goodbye Cabo! Until next year!
XO,
Linda