Tis the season for entertaining, cooking and baking! I know that I can make a terrible mess of both the kitchen and myself while cooking.  So, donning an apron mitigates the problem.  Wearing beautiful, new clothes really necessitates the use of an apron when hosting people during the holidays. Don't settle for an ordinary apron. Select one that has a holiday feel to it. My daughter fueled my appreciation for aprons.  As a little girl, she loved wearing a fancy apron and baking cookies. Because of those memories, I have a fondness for aprons.
Not only do they protect your clothing, they are adorable! I know some of the patterns are a little cheesy, but oh so fun! I'm hoping the apron will trick people into thinking I am a serious cook!  Thanksgiving, a cookie baking party, or anytime you are in the kitchen during the holidays offer an opportunity to wear one.  I do not have grandchildren yet, but many of these aprons offer companion aprons in child sizes. So, today I am sharing some of my favorite aprons this season. Let the cooking and baking begin!
The rich autumn colors and print in this darling acorn print apron will be perfect to wear while cooking on Thanksgiving day.
An autumnal floral print apron adds a pretty, feminine feel.
Love plaid? This charming apron is fall festive in color.
This fall botanical print apron is only part of a matching ensemble . Now that says serious chef! Or maybe not…they probably wear a plain white apron with faint stains that showcase the thousands of meals they have concocted from scratch!
An elegant paisley print defines a lovely apron.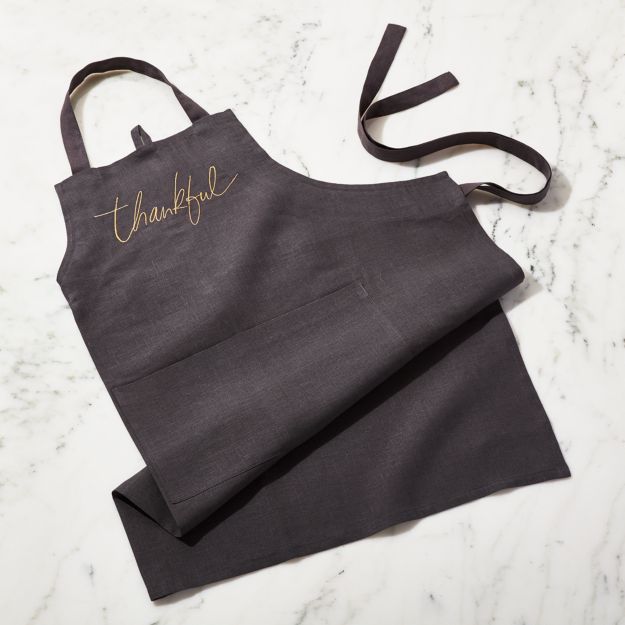 The beautiful simplicity of this "Thankful" apron says it all!
 Red plaid, I'm in! This festive red plaid apron is my newest pick. I also adore the gold thread monogram. I may also need to order one for my adult daughter (reminiscent of days gone by) for our yearly cookie baking.
Another plaid option!
Accessorize your holiday cooking look with a gorgeous red and white jacquard apron!
Wear an equally beautiful jacquard apron with a snowflake print.
Pair a novelty snowman print apron with the available child's apron! Time for those photo opportunities!
 I love it – "Kiss the Cook"! The embroidered mistletoe on this darling apron is beautiful.
 Monogram a candy cane striped apron for a bit of holiday cheer!
 Celebrate Santa's imminent arrival in the "T'was the night before Christmas" apron while preparing Christmas Eve dinner!
 Calling all dog lovers! Who can resist an apron with our furry pals on it?
Do you have a favorite apron you wear for holidays? Perhaps it holds special memories.  Aprons are a wonderful way to celebrate this marvelous season! If you haven't worn one before, give it a try.  It promises smiles as well as protecting your holiday outfit! Start the cooking and baking!
XO,
Linda